Course details
【3 hours】 All you can drink + 10 cuisines + Yakitori or Nabe all you can eat All 2999 yen (tax included) Sakura full open course Our most popular one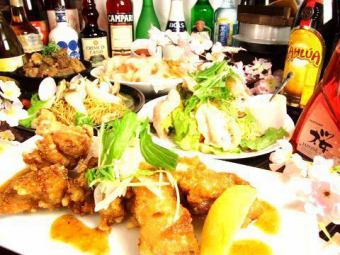 By using a coupon2999 yen
All you can eat and drink 3 hours / tax included
All-you-can-drink available

All you can drink menu over 200 kinds !! We are supposed to drink alcohol like our original ♪ ♪
Available days for reservation

Monday - Sunday - Public holidays - Holidays
All-you-can-drink 3 hours.20 colorful private rooms · Boasted cuisine · All you can drink as much as you like · Space of relaxation · slowly 3 hours of our one pushing course.
Course menu
【3 hours】 All you can drink + 10 cuisines + Yakitori or Nabe all you can eat All 2999 yen (tax included) Sakura full open course Our most popular one
Appetizer platter
Chicken skewer Caesar dressing salad
Seafood Miso Soy Sauce Covered with Yukkei Lion
Fried chicken with yuzu pepper
Stir-fried beef Kimchi
Salmon & Vegetable Grilled with Tartar Sauce
French fries potato salt
Minced vegetables and marinated mayyo sauce pasta
Cooked rice with clam and wild vegetables
Today's dessert
All-you-can-eat all-you-can-eat bowl of yakitori
For all you can eat as much as you want, we will serve an assortment according to the number of people.
Please note that there will be a separate charge if there is any leftover to eat.
All-you-can-drink menu
·beer
· Suntory Barley · Shandyagaf · Red Icon Corner · Cassisubia · Pinebia · Apple Via · Orange Beer · Grefruvia + change to bottled beer at 500 yen ok !!
·Cocktail
· Cherry · Cassis · Peach · Mango · Pine · Aloe · Banana · · Tea · Grin tea · Kalua · Vodka · Gin · · · ETC Eat your favorite juice and ♪
· Fruit wine · Plum wine
· Plum · Cherry · Yuzu · Kabos · Sudachi · Giant Peak · Melon · White Peach · Orange · (Rock · Soda · Water · Hot Water)
· Shochu · Sake
· Shochu (wheat · potato · shiso · horseradish · soba · ginger · kelp · awamori · sesame · jasmine) sake (cold · hot spring)
· Whiskey · Chinese sake
· Whiskey (rock · water split · soda split) Chinese liquor (apricot distilled spirit, shochu, gold shochu, hazel shochu · indigo straw)
·Highball
· SAKURA · Ginger · Cork · Shochu · Yuzu · Sudachi · Cabos · Plum · Lemon · Lime etc. 12 highballs
· Wine · Chinzano
· Wine (red · white) Tinzano (Rosso · rose · dry · half)
·Soft drink
· Orange · Grapefruit · Calpis · Milk · Oolong Tea · Ice Tea · Ginger Ale · Cola · Apple
2018/04/08 update